Best rates on airline tickets
The story behind WayAway
WayAway is a brand made by travellers, for travellers. It emerged from Travelpayouts, a partnership platform that brings together travel content creators and travel brands and is the culmination of 10 years of experience in the travel market.
In short, WayAway is a travel aggregator that shares the commission it gets from airlines and travel agencies with users through a cashback program.
Unlike other aggregators on the market, WayAway is dedicated to a customer-first approach. It has built its service with the everyday traveller in mind and includes features such as lucrative cashback rewards, premium customer support, and travel content from active travellers worldwide.
WayAway in a nutshell
WayAway is a flight aggregator that gives travellers the best rates on airline tickets and other travel deals. Users who sign up for the WayAway Plus membership plan get additional cashback on bookings of flights, hotels, rentals, and more.
With WayAway's innovative search, which compares airfares offered by all major US and global airlines and agencies, users can find options for any wallet. The service offers the best flight deals for specific travel dates as well as more affordable tickets on alternative dates. The comprehensive filter gives travellers limitless flexibility when booking a flight, allowing them to toggle between these features:
– Baggage requirements
– Flight details
– Layovers and overnight flights
– Luggage re-check
For those who are planning to travel in advance, WayAway gives the option of price alerts, which inform travellers of limited-time bargains and price drops.
It does not matter where you are flying from and where you are flying to, the WayAway cheap flights with cashback is available to everyone.
WayAway Plus
The key benefit users will be drawn toward is the WayAway Plus membership plan. There are many travel aggregators on the market, but no one can boast WayAway's unique selling proposition — Cheap flights with cashback. Sign up now and receive an extra 10% discount.
How WayAway Plus works
Users buy an annual membership plan at an early-bird price of $49.99. They make bookings with travel services that offer cashback on WayAway Plus. For example, a tourist who books a hotel on Booking.com through WayAway Plus will receive their cashback reward after their stay.
A signature feature of WayAway Plus is that users receive actual cash, not points or miles. The money is sent directly to users' PayPal accounts, meaning that they are able to spend it how and where they want.
Cashback rates for users
Flights: up to 5%
Booking.com: up to 10%
KiwiTaxi.com: 10%
Tiqets.com: 7%
Hostelworld: up to 6%
Rentalcars.com: 5%
GoCity: up to 3%
Klook: up to 7%
Viator: 6%
AirHelp: 10%
GetYourGuide: 8%
Here are some examples of how WayAway Plus works
– Round flight from Boston to Las Vegas for two ($245 x 2) = $25 cashback
– Round airport transfer for $130 = $13 cashback
– Hotel for a weekend for $962 = $96 cashback
– Car rental for $400 = $20 cashback
– Grand Canyon tour for $238 = $14 cashback
This comes out to $168 total cashback or just one trip, meaning that users can save over 7% using WayAway Plus!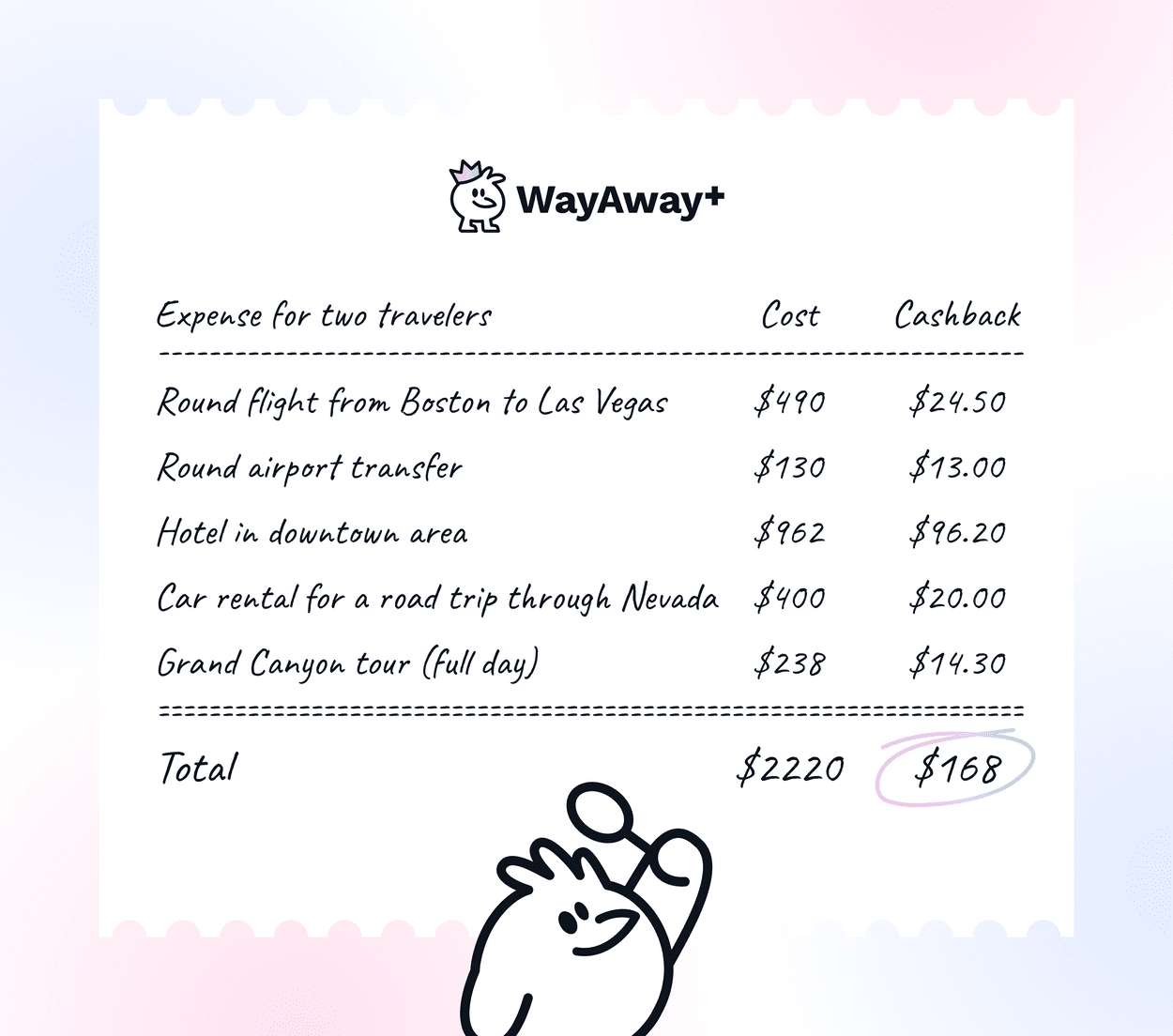 What sets WayAway apart?
WayAway offers its users a full spectrum of services to ensure an enjoyable, productive, and rewarding experience. The WayAway package sets it apart from most competitors.
Here's what a WayAway customer gets:
✔️  The best coverage in the US
WayAway compares airfares offered by all major US and global airlines and agencies.
✔️  Quick service
The WayAway Plus membership plan includes 24/7 customer support for all travel-related queries.
✔️ An intuitive mobile app
The WayAway app makes searching for travel deals effortless. WayAway iOS app / WayAway Android app
✔️  Useful content
WayAway offers content written by locals to help users plan their ideal trip.
✔️  Cashback rewards
The WayAway Plus membership plan offers users up to 10% cashback on airline tickets, hotel bookings, car rentals, and other travel services.
Promo Code – 10%
Users who sign up for WayAway Plus via The Mallorca Insider will receive a 10% discount. Just use the Promo Code: CashbackABC or use this link with the pre-filled Promo Code – Sign up