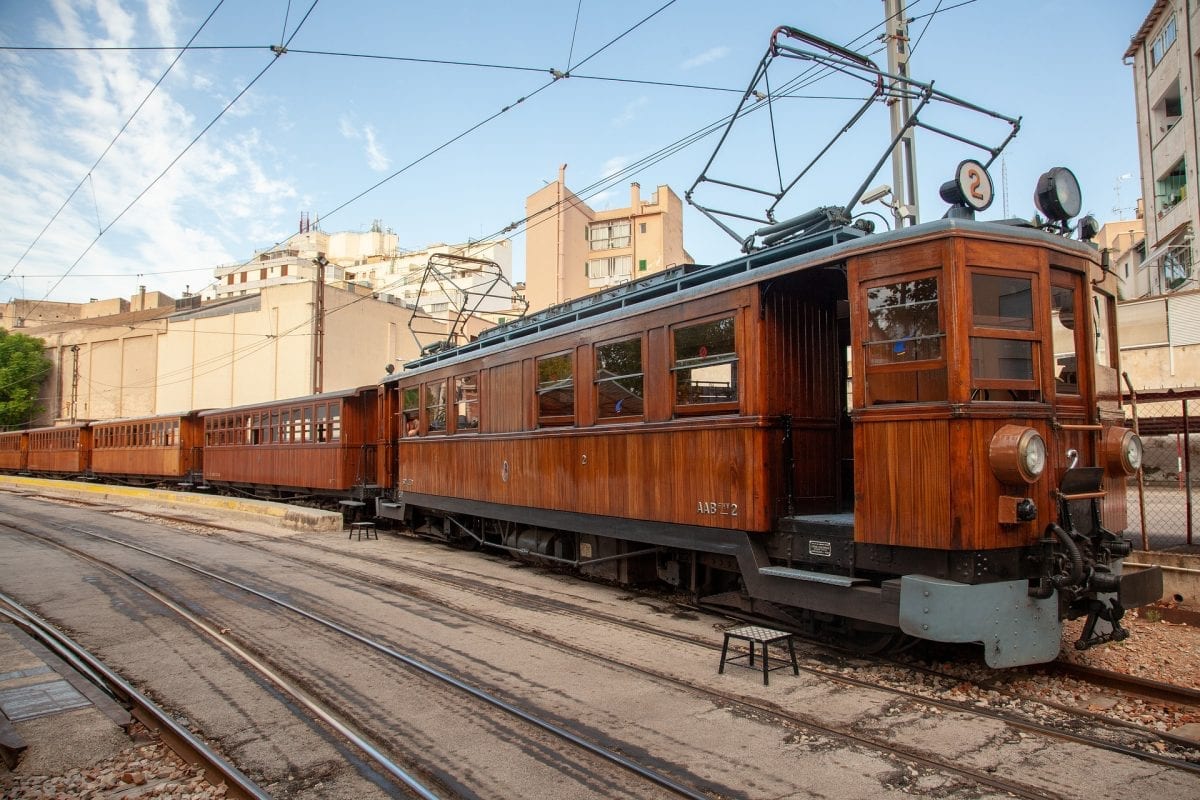 The Orange Express
Tren de Sóller – updated 12 October 2022
Even if you are only on the island for a short time, the narrow-gauge, Tren de Sóller journey from Palma to Sóller should be close to the top on your things-to-do list. One of the most rewarding excursions on the island, the vintage train to Sóller is a very popular attraction with a journey time of around 1 hour and 15 minutes.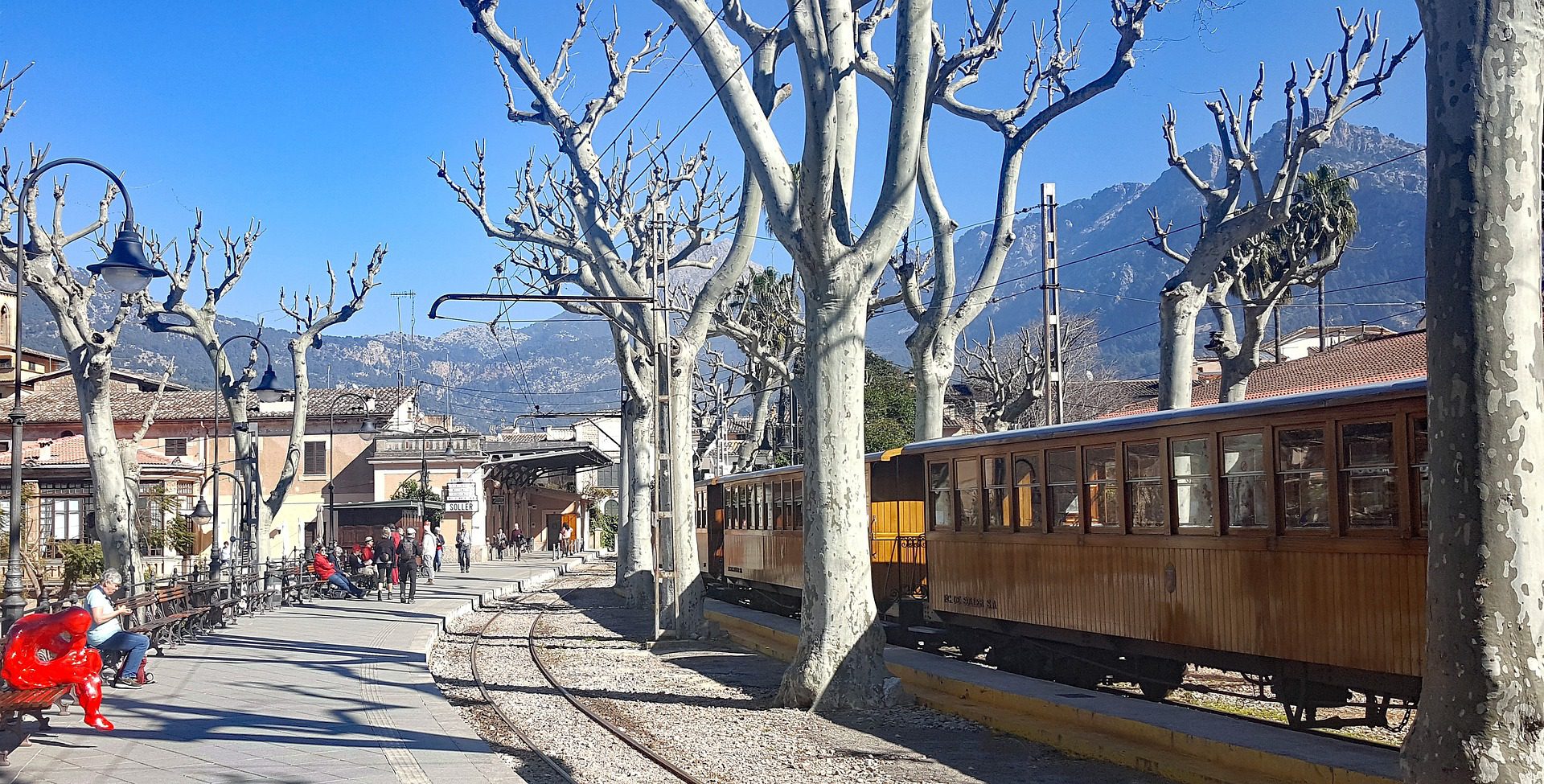 Tren de Sóller – Wooden train
Sometimes known as the Orange Express, the wooden train was originally introduced to transport oranges and lemons from the Sóller valley to the capital, replacing a stagecoach service, which crossed the high mountains via the Sóller pass on a steep, narrow dirt track, which was exhausting and tediously slow.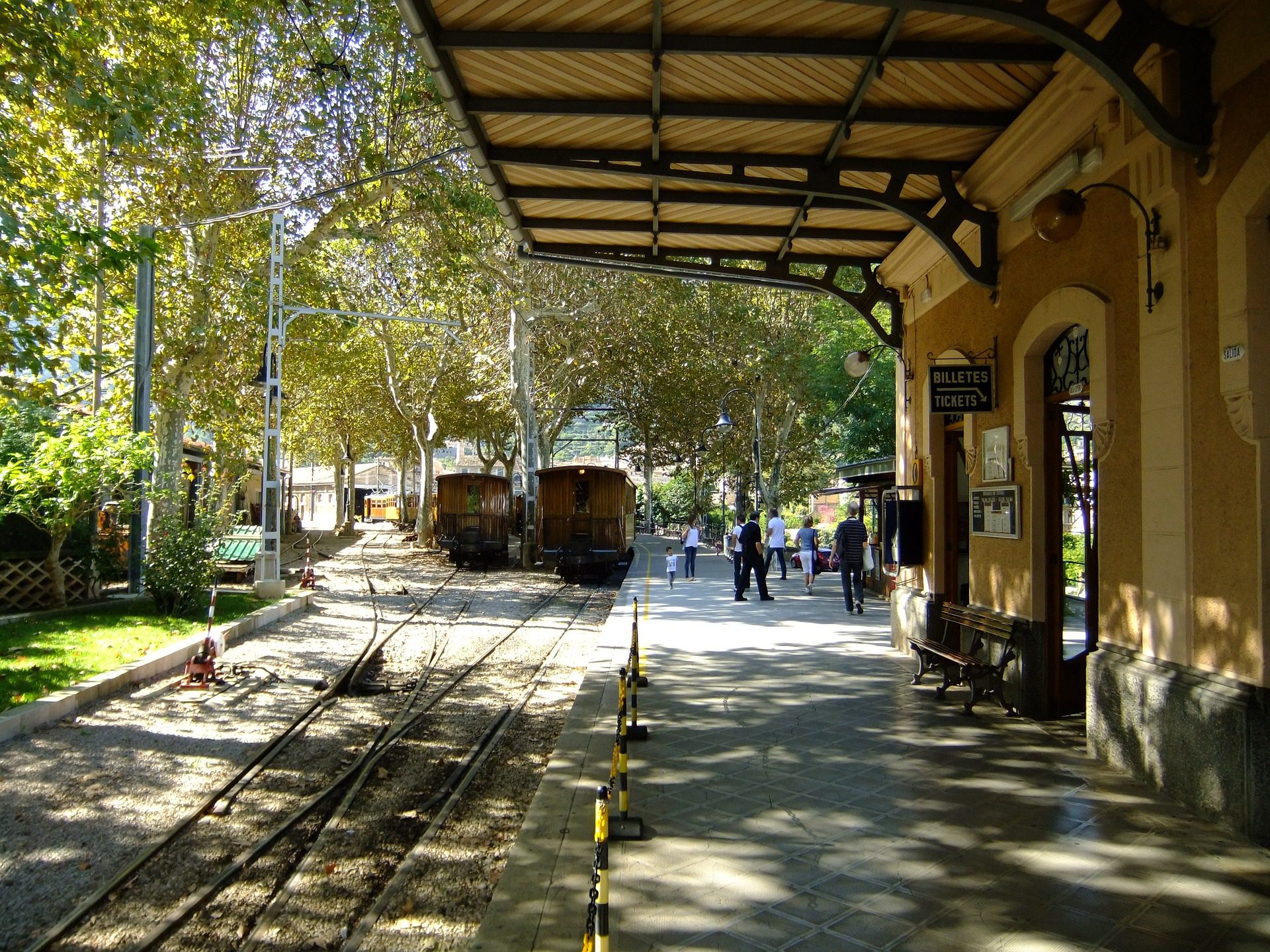 Funded by profits of the citrus fruit trade, the Tren de Sóller has trundled along the winding 27.3km route to Sóller since 1912.
Art Deco station
Departing from its own station in Palma, Plaça de l'Estació, the train only has one stop at Bunyola before it arrives at its final destination, the quaint Art Deco station in Sóller; which is housed in an early-17th-century mansion.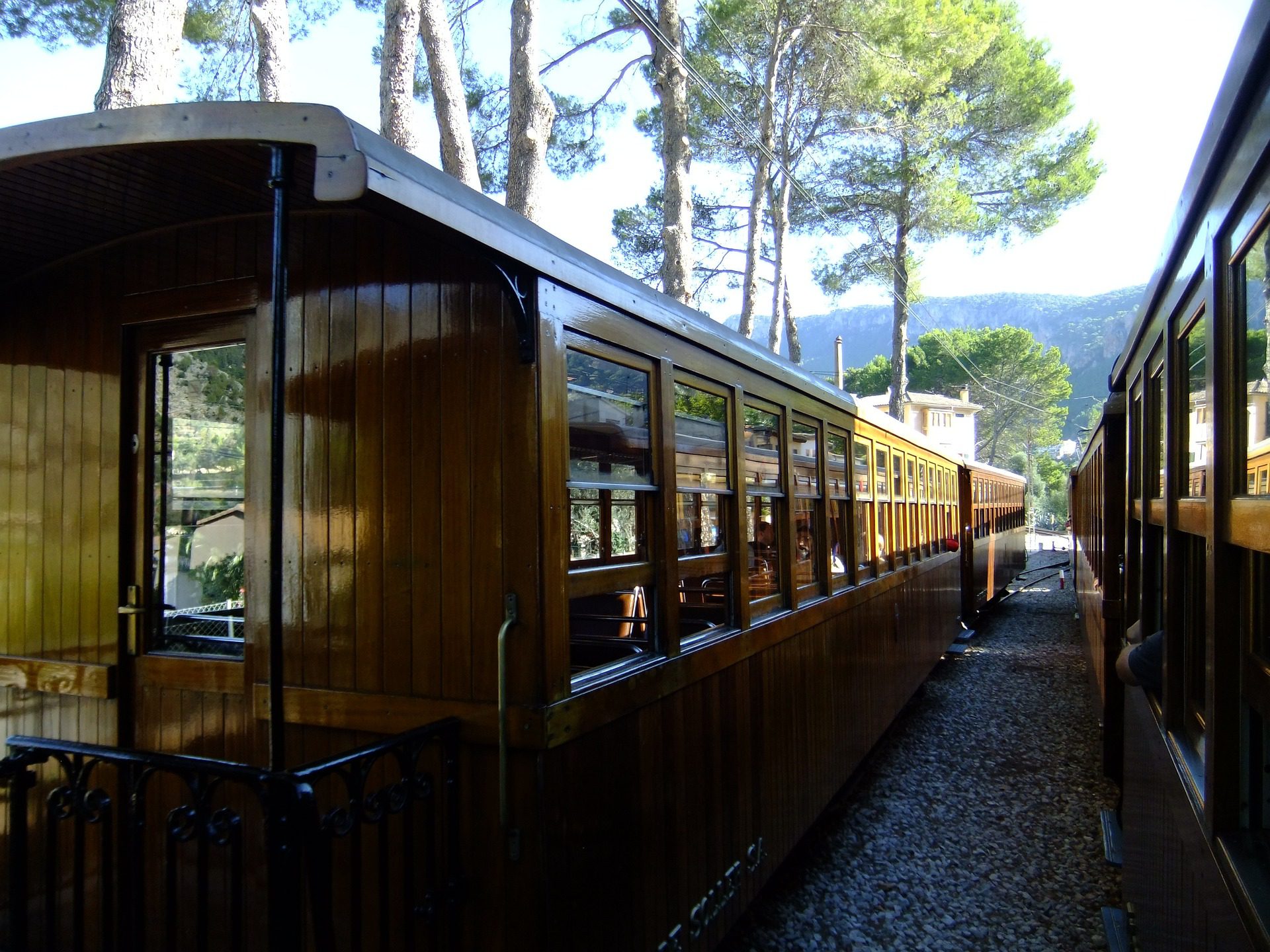 A journey back in time
This is a train trip that will transport you back in time, you will hear a cacophony of hoots, whistles, rattles and hisses as the narrow-gauge train with its mahogany panels and brass fittings initially rolls through the streets of Palma.
Bunyola
Within 20 minutes, you will be enjoying the countryside dotted with olive trees and a view of the mountains in the distance. Just 30 minutes after leaving Palma, you will arrive at Bunyola, a traditional town located on the spurs of the Serra de Tramuntana. The train station at Bunyola is picturesque constructed from blond-stone and combined with traditional green shutters, definitely a chance to take some memorable photos of your trip.
From Bunyola the journey becomes super-scenic as it crosses the 496m high Serra de Alfàbia mountain range via a series of 13 tunnels, bridges and viaducts.
Cinc-ponts
Things to look out for on the journey are the Túnel Major (Main tunnel); which is just short of 3km long and took three years to carve out of the rock and Mirador Pujol de'n Banya, an incredible lookout point with views stretching out over the Sóller valley. These are followed by the "cinc-ponts" viaduct which has five arches with spans 8 metres high and a great many bends and the "cinc-ponts" tunnel with its 180-degree bend.
When you arrive at Sóller and you've had a chance to explore, we highly recommend that you take the old tram, which regularly trundles down to Port de Sóller. Combined train and tram tickets can be purchased, and this is the best option financially. A combined train and tram ticket for the entire journey from Palma to Port de Sóller and back to Palma is €32.
Please note:
The Tren de Sóller does not leave Palma from Plaça Espanya but rather from its own separate building to the left-hand-side of the main train station. Just look out for a sign that reads 'Ferrocarril de Sóller' above the entrance and you will find it easily.
When you purchase your tickets, you must inform them which time you will be taking the return train, so some advance planning about your itinerary for the day is required.
Tours

There's something really special about this trip to northern Majorca – the way in which you go sightseeing is part of the adventure. That's because you'll travel by coach, train, tram and boat during our exclusive excursion through Soller, Port de Soller, Sa Calobra and Lluc. What's more, you'll have an in-the-know local to show you around. Juan, one of our guides, says, 'I was born and bred in Majorca, and have lived in the Soller region for years. You'll see special places that most visitors miss out on.'
Hop on the century-old Soller train – think antique wooden carriages with brass fittings – and zigzag your way through the pine-clad Tramuntana Mountains, which are a UNESCO World Heritage Site. It's an experience oozing nostalgia. And as the train is electric, it's a more sustainable way to travel. There's also a trip on a tram linking Soller and Port de Soller, during which you'll pass through orange groves and narrow tracks behind homes. And if you want some insider tips, your local guide can recommend the top restaurants for a real taste of the island's cuisine.
With free time to find lunch, it's a great opportunity to sample the produce Soller is famous for – oranges, ice cream and the highly regarded red Soller prawns. The journey from Port de Soller to Sa Calobra is by catamaran. You'll have a little while to unwind on this impossibly beautiful beach, which is hemmed in by cliffs. Further in is the rocky gorge of Torrent de Pareis – nature at its rawest – Book now
The website for Ferrocarril de Sóller is very informative and provides a detailed history about the train and its route, you'll also find a timetable there with a list of up-to-date prices – trendesoller.com