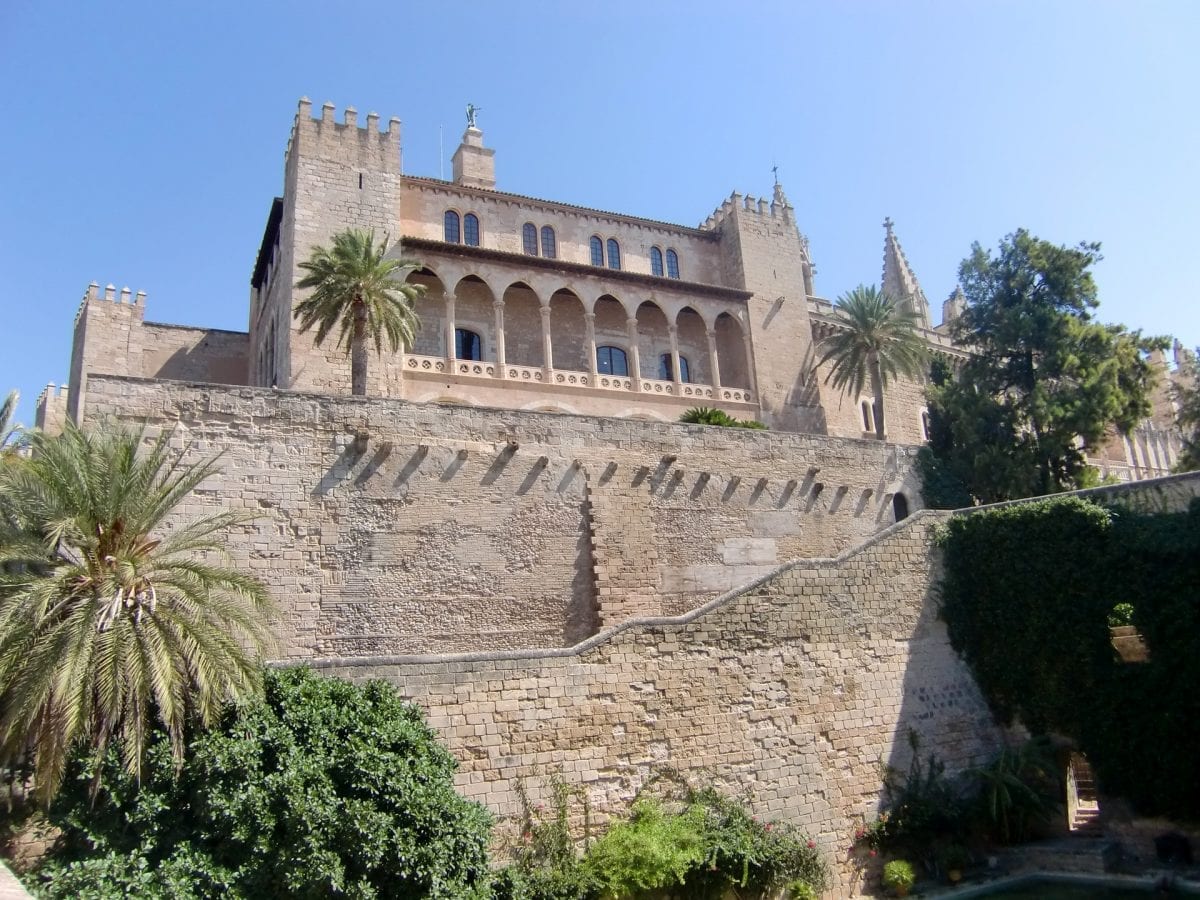 The Royal Palace of La Almudaina was a 10th century Muslim fortress (alcázar ) prior to being converted into a residence for the Mallorca Royal Family at the end of the 13th century.
A long time before the Moors arrived in the 10th century, the site had been utilised by both the Talaiots and the Romans and the area was once home to a Roman fort.
Symbolically, the King of Spain still resides here; however it is unlikely that you will see him there with the exception of an occasional important ceremony, the Royals prefer to spend summer in the Palau Marivent (in Cala Major) instead. In fact, since King Jaume III died in 1349, no king has lived in La Almudaina on a permanent basis.
Remodelled in the Levantine Gothic style by the Christians, The Royal Palace of La Almudaina is located opposite the magnificent Palma Cathedral, La Seu. Its elevated position has provided the palace with protection and strategic importance over the years and the building still serves as the Balearics military command.
Today, the palace is one of the capital's main attractions and tourists can enjoy incredible, scenic views overlooking the Bay of Palma in addition to exploring the inside of the palace and its numerous rooms.
Whilst exploring the interior of the palace, you will find three grand rooms with bricked-in-Gothic arches that have been cut off in the middle, they were once double their height and would have formed a vast hall. These rooms have been luxuriously decorated and furnished with period pieces and tapestries.
Within the main courtyard, you will find the 11th century lion fountain and and the entrance to St Anne's Chapel. This Chapel was built for the Queen at the beginning of the 14th century, as was St. James's Chapel, which was for the use of the King.
The grand staircase takes you up to the royal apartments with beautiful timber ceilings and lavishly appointed rooms, which are worth seeing as many of the palace rooms are completely bare.
Beneath the palace are the S'Hort del Rei gardens which are a great place to sit, relax and watch the world go by. Look out for Joan Miro's Egg sculpture and the Arc de la Drassana, once the gateway to the royal docks.
If you are staying in Palma, it's a short walk or public bus ride to the Royal Palace. There is also plenty parking spaces in front of the Cathedral along the Paseo Marítimo.
The palace is open from 10am – 4pm Tuesday to Friday (closed on Monday) and 10am – 6pm on weekends and public holidays. Prices are €7 (basic), €4 (reduced) with an extra €4 for a guide or €3 for an audio guide.
Free entrance: Wednesday all day and Sunday from 3pm to 6pm.
Further information can be found on the official website – patrimonionacional.es