Plaza de la Constitucion
Plaza de la Constitucion – updated 04 February 2023.
Sóller is a charming town on the island of Majorca, Spain, known for its stunning natural beauty and rich cultural heritage. At its heart lies the Plaza de la Constitucion, a bustling square that serves as the town's main gathering place and a hub of activity for tourists and locals alike.
Church of Sant Bartomeu
Constitution Square is one of the most scenic main squares in the Balearic Islands and is surrounded by modernist buildings and dominated by the Church of Sant Bartomeu, which dates from the 16th Century. The square was built in 1813 and was once used as a bullring with the balconies of the fringing town houses rented out to spectators.
Sant Bartomeu Church was famously renovated in 1904 by a disciple of Antoni Gaudi named Joan Rubió who gave the largely baroque church a beautiful new modernist façade.
Weekly market
One of the most popular attractions in the Plaza de la Constitucion is the weekly market, which takes place every Saturday and is a great opportunity to pick up local products, such as fresh produce, handmade crafts, and souvenirs. Visitors can also enjoy a leisurely lunch or dinner at one of the many cafes and restaurants that line the square, or simply sit and people-watch, soaking up the lively atmosphere of this charming town.
Passeig de ses Fonts
The Plaza de la Constitucion is also a great starting point for exploring the rest of Soller, with its narrow streets, charming buildings, and beautiful gardens. Visitors can take a stroll along the Passeig de ses Fonts, a lovely promenade that winds its way through the town and offers breathtaking views of the surrounding countryside. Alternatively, they can take a scenic train ride to the nearby town of Port de Soller, where they can enjoy a dip in the crystal-clear waters of the Mediterranean Sea.
Tranvía De Sóller
Plaza de la Constitucion is Sóller's social hub and is lined with tapas bars, cafes and bars. The Tranvía De Sóller (tram) which travels from Sóller to the port passes directly through the square at regular intervals, which just adds even more charm to this already picturesque main square.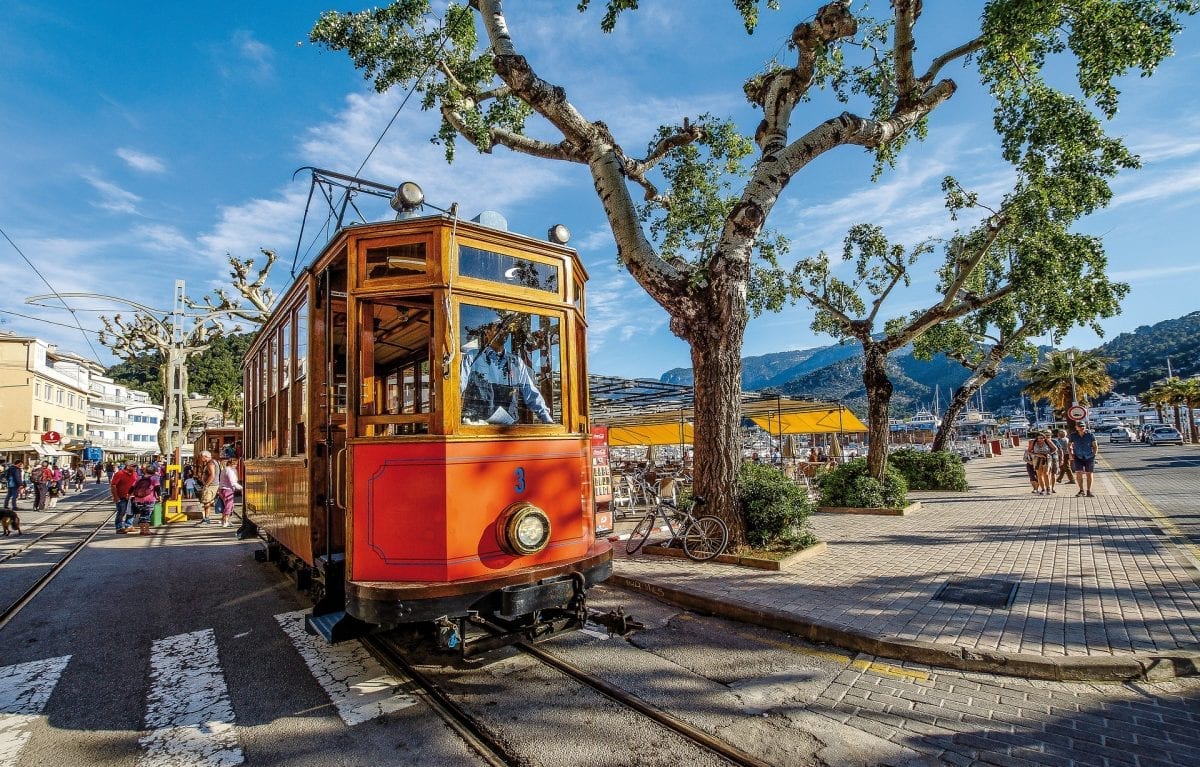 Tren De Sóller
Tourists arriving in Sóller from Palma on the Tren De Sóller (a vintage wooden narrow-gauge train) amass at Plaza de la Constitucion to enjoy the atmosphere and partake of refreshments. At times, it can be difficult to find a free seat at one of the many cafes and bars.
Even if you are only on the island for a short time, the narrow-gauge, Tren de Sóller journey from Palma to Sóller should be close to the top on your things-to-do list. One of the most rewarding excursions on the island, the vintage train to Sóller is a very popular attraction with a journey time of around 1 hour and 15 minutes.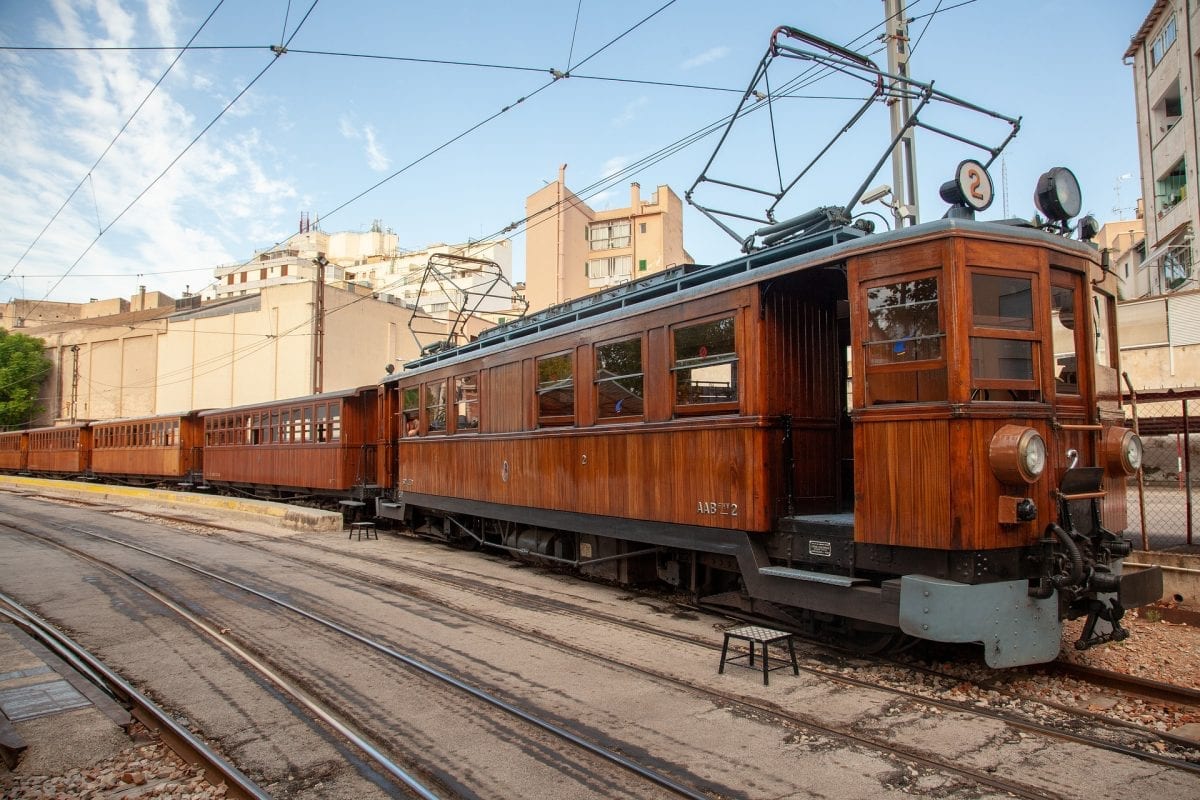 Orange Express
Sometimes known as the Orange Express, the wooden train was originally introduced to transport oranges and lemons from the Sóller valley to the capital, replacing a stagecoach service, which crossed the high mountains via the Sóller pass on a steep, narrow dirt track, which was exhausting and tediously slow.
In conclusion, the Plaza de la Constitucion in Soller is a must-visit for tourists and locals alike, offering a charming and historic setting for a day of shopping, dining, and exploring. So, if you're planning a trip to Majorca, be sure to add Soller and its beautiful square to your itinerary.
Tours

There's something really special about this trip to northern Majorca – the way in which you go sightseeing is part of the adventure. That's because you'll travel by coach, train, tram and boat during our exclusive excursion through Soller, Port de Soller, Sa Calobra and Lluc. What's more, you'll have an in-the-know local to show you around. Juan, one of our guides, says, 'I was born and bred in Majorca, and have lived in the Soller region for years. You'll see special places that most visitors miss out on.'
Hop on the century-old Soller train – think antique wooden carriages with brass fittings – and zigzag your way through the pine-clad Tramuntana Mountains, which are a UNESCO World Heritage Site. It's an experience oozing nostalgia. And as the train is electric, it's a more sustainable way to travel. There's also a trip on a tram linking Soller and Port de Soller, during which you'll pass through orange groves and narrow tracks behind homes. And if you want some insider tips, your local guide can recommend the top restaurants for a real taste of the island's cuisine.
With free time to find lunch, it's a great opportunity to sample the produce Soller is famous for – oranges, ice cream and the highly regarded red Soller prawns. The journey from Port de Soller to Sa Calobra is by catamaran. You'll have a little while to unwind on this impossibly beautiful beach, which is hemmed in by cliffs. Further in is the rocky gorge of Torrent de Pareis – nature at its rawest – Book now
The website for Ferrocarril de Sóller is very informative and provides a detailed history about the train and its route, you'll also find a timetable there with a list of up-to-date prices – trendesoller.com