Dentists in Palma
Dental tourism is becoming very popular nowadays especially considering the high costs of treatment in Britain. In most circumstances the prices in Palma are 50% to 65% lower than they are in the UK.
Combining dental treatment with your holiday just makes sense and the savings you make will often cover the price of your trip away. If you've always wanted a dazzling smile, then consider cosmetic dentistry whilst you are in Mallorca or perhaps you just need to get your dental health back on track.
Headlines about the state of National Health Service dental services are par for the course at the moment in the UK. From DIY dentistry to children whose teeth are worse than kids in third-world countries, there is no let-up in the constant news stories in the British media.
Unfortunately, things are not getting any better as more people find themselves with no access to an NHS dentist. Even if lucky enough to be signed up to one, it doesn't necessarily mean they will get treated.
However, even more of an issue is that by not having regular check-ups and basic preventive care (such as fillings), a small problem often becomes a bigger one, typically leading to pain and, ultimately, tooth loss. But it need not be that way. Although it might not be many people's choice to combine their dental care with a holiday, if you can affordably preserve dental health then it's a reasonable option to consider.
All dentists in Mallorca must be registered with the General Dental Council and have a degree from a recognized Spanish university. As a member of the European Union, Spain must follow strict Europe-wide regulations relating to safety and hygiene. It's safe to say, therefore, that Spain's dentists are generally reliable and deliver good-quality services.
All dentists in Spain operate on a private health care basis. This means that patients can pick and choose where to go, which also means that dentists must offer good services, else they will soon be out of suitable clients. It also means that prices remain competitive, with would-be patients able to compare prices and services and choose accordingly.
The best dental clinics in Spain are modern and equipped with state-of-the-art facilities and equipment, including the latest 3D/CT scanners, digital x-rays and CAD/CAM (computer-aided design/computer-aided manufacture, which allow for same-day services for prosthodontics like crowns and veneers.
Mallorca is a popular island to visit, particularly for Brits and Irish. You can find discount direct flights from around the British Islands to Palma's international airport with airlines including Easyjet, Ryanair, Jet2, Thomas Cook and TUI offering low prices.
Mallorca's position, surrounded by the Mediterranean Sea, makes it a no-brainer break for sun-starved Brits, and with flight times of around 2.5 hours it's a quick getaway too!
How Much Does Dental Care in Spain Cost Compared to the UK and Ireland?
You can make huge savings on the dental prices in Palma compared with a dentist in Manchester, Dublin or London.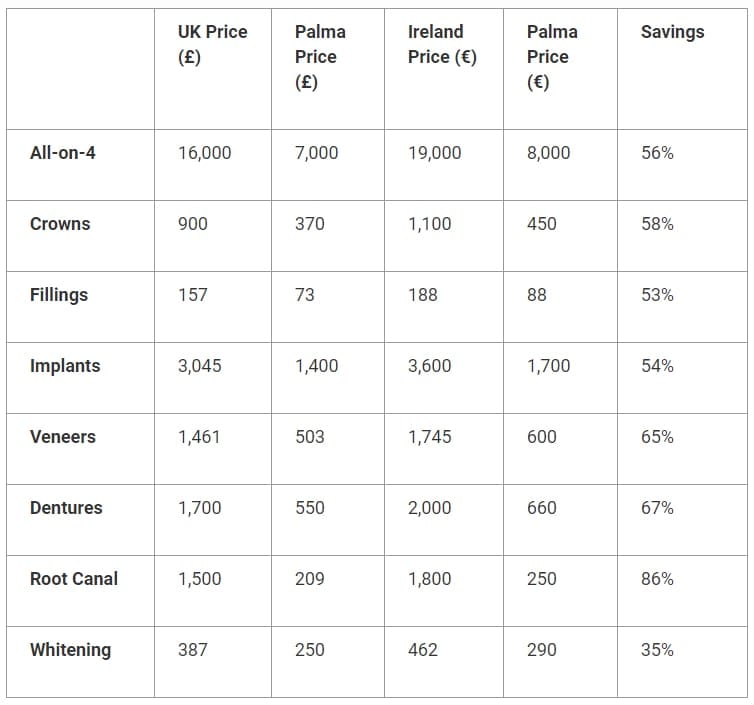 The clinic is located in the heart of Palma and offers a multidisciplinary approach to your dental care meaning that you can get all the treatment you need under one roof, without having to go elsewhere.

Dr Murad has been a dentist for over 15 years, and today works alongside a team of highly-skilled professionals to improve your dental health and your smile. The team ensures it keeps up-to-date with the latest techniques, taking part in continuous training to deliver a full range of general and specialist dentistry to each and every patient. For any aspect of your oral health or cosmetic dental needs, CED Clinica Estetica can help to get you back on track.
The clinic offers a wide range of general and specialist dental care to a local and international clientele, as well as aesthetic treatments, both surgical and non-surgical, for the face and body. The ethos at the clinic is to offer a combination of dental, aesthetic and dermatological care but integrating health and nutrition so that you receive an all-encompassing service that truly highlights the best of you.
The team at MZL Dental have extensive expertise in the world of dentistry, delivering the latest and most-up-to-date treatments available under the supervision of Medical Director, Dr Manuel Zaragoza Lauber. The clinic is a contemporary, tranquil space designed to make patients feel at home and provide the best experience. It is equipped with world-renowned brands, including Kavo Kerr chairs and dental hygiene and disinfection systems from EMS, the leading Swiss manufacturer.
Clinica Dental Aragon 33 offers a comprehensive range of general and specialist dental care to both local and international patients. The clinic is located in the heart of Palma and offers a multidisciplinary approach to your dental care meaning that you can get all the treatment you need under one roof, without having to go elsewhere.

Squeeze the most out of your family holiday in Mallorca! From the buzzing capital of Palma to mystical caves, thrilling water parks and more – it's impossible to choose from. The TUI Majorca Family Pass gives you easy access to some of the best attractions across the island, at a heavily discounted price!