Seafront Promenade
Seafront Promenade – updated 14 February 2023.
Palma, the capital city of Majorca, is home to one of the most beautiful seafront promenades in Europe. The seafront promenade of Palma, Majorca is a magnificent destination where visitors can enjoy stunning views, refreshing sea breeze, and warm sunshine. It is a perfect place to relax, unwind and soak up the beauty of the Mediterranean Sea.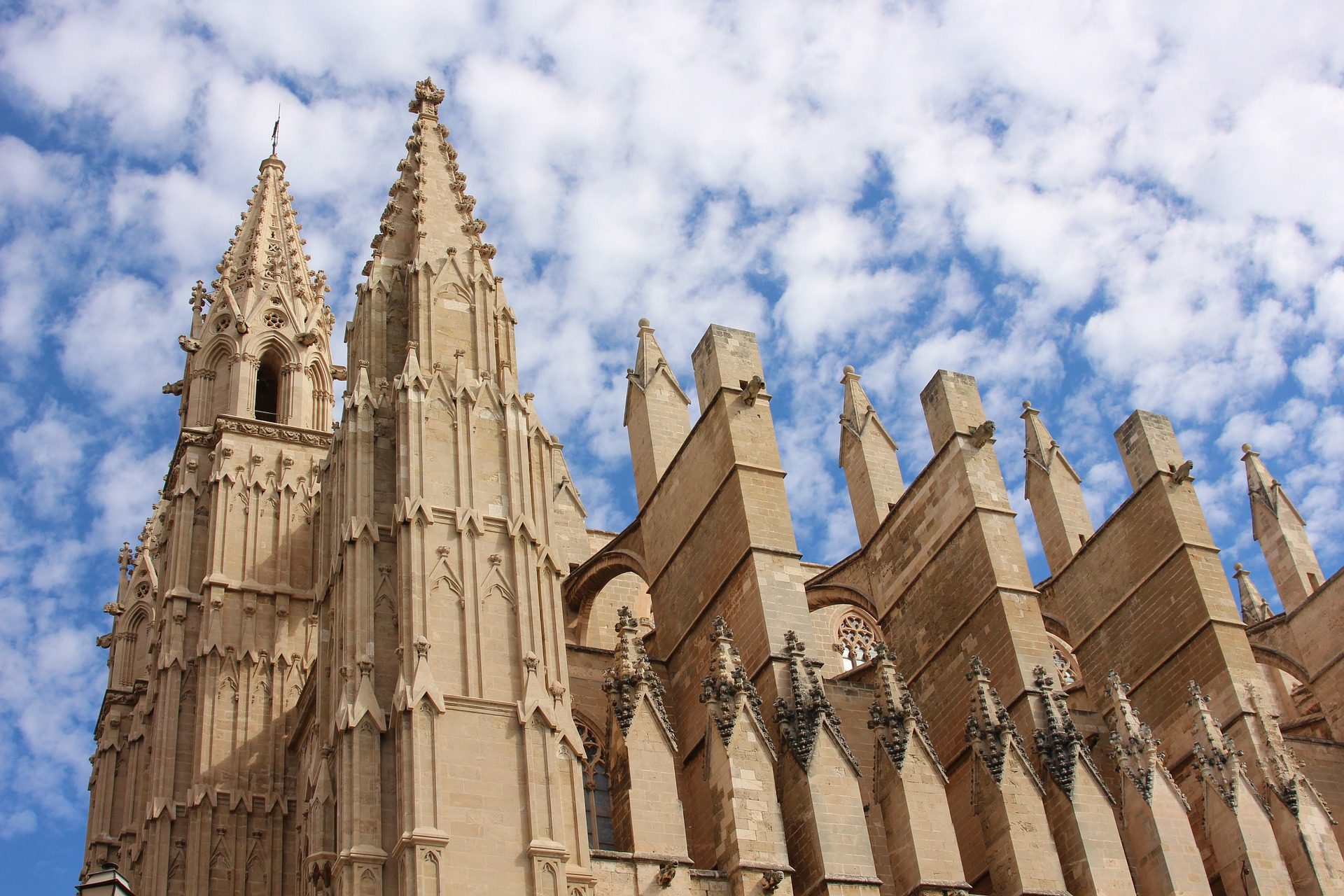 The seafront promenade in Palma actually starts from the military port near Port Pi and stretches all the way to Palma Airport. A 4 km section of this is the Paseo Maritimo. This article looks at the part of the promenade that is not on the Paseo Maritimo.
The promenade with its fantastic sea views is extremely popular for walkers, joggers, roller-skaters, skateboarders and cyclists. There are lots of bars, restaurants, cafes and shops to stop at when you need a break, there is also a mini train that chugs along the promenade for those that are feeling less active.
One of the most impressive features of the seafront promenade in Palma, Majorca, is its stunning sunset views. The sky is painted in beautiful shades of red and orange, and the sea reflects the warm colours of the setting sun. It is a breath-taking view that attracts visitors from all over the world.
Cathedral
Just beyond the cathedral at Ca'n Pere Antoni, is Palma City Beach. It is a golden, sandy beach that is very popular with the locals and visitors who are staying in Palma and fancy a quick dip in the sea.
With Palma Cathedral as a backdrop, Palma City Beach has incredible views, it also has a Blue Flag award for cleanliness.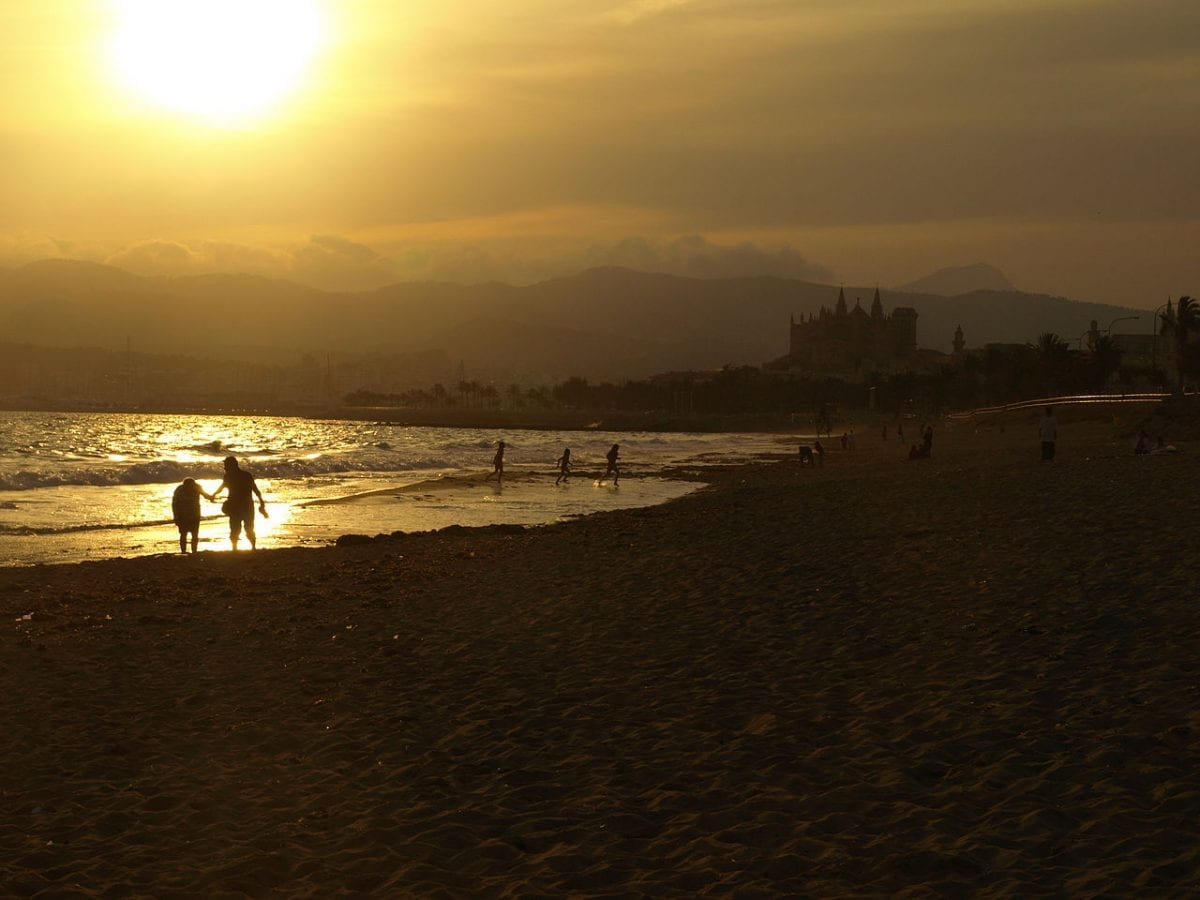 Beach
Being located in Palma, the 750m long and 15m wide beach can get very busy during the summer season so the advice is to get there early to claim your piece of sand. If it is too busy, don't worry, there is another beach just 1/2km further along at Portixol.
Playa de Palma
From Palma City Beach, the wide pedestrian promenade joins the popular resorts of C'an Pastilla to El Arenal, this part of the seafront is known collectively as Playa de Palma. Look out for the 'Balnearios'; which are a series of open-air huts serving drinks and snacks.
C'an Pastilla is a purpose-built tourist resort and is ideal for family holidays.
El Arenal
El Arenal is located on the eastern end of the 6 km long Playa de Palma about 15 km away from Palma and around 7km from the airport. It is a very popular resort particularly for the 18 to 30 crowd and is predominantly German.
Tourist attractions
Playa de Palma has a few attractions including Aqualand El Arenal, a waterpark with wave pools, artificial rivers and water slides a plenty and Palma Aquarium; which is one of the finest in Europe and has an excellent reputation for its marine research, conservation and preservation programs. The aquarium has a very impressive display of live coral and many of the corals that you will see have been breed within the premises.
Nightlife
Nightlife in Playa De Palma revolves around two main areas, the Mega Park near El Arenal and a party street named Carrer Padre Bartolome Salva (known as 'Bar Street') in the resort area of Les Meravelles.
Oktoberfest
Nightlife in Playa De Palma steps up at the end of summer when Mega Park hosts it's classic Oktoberfest celebrations where visitors can get a taste of German food and drink while dancing away to all the classic Oktoberfest tunes. It is a fun celebration that tries hard to match Oktoberfest in Munich.